Access, Utilisation, and Impact: A Study on the Public Distribution System in India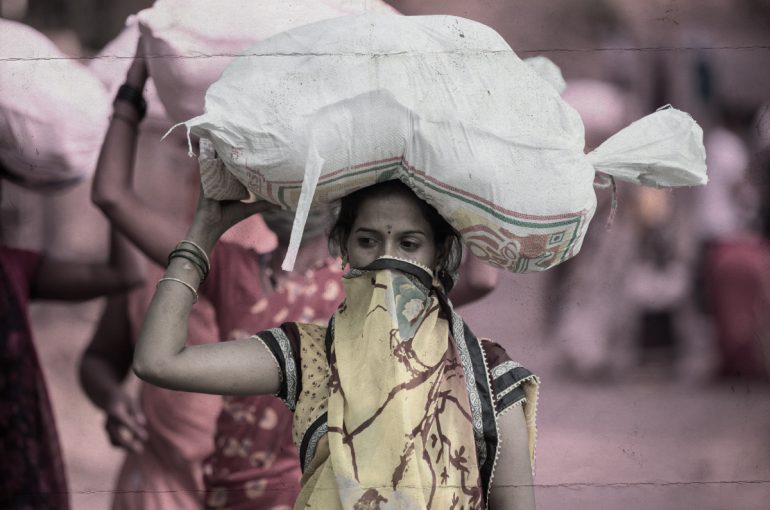 By Anveshi Gupta and Garima Agrawal
01/ Introduction
India has slipped to the 101st position among 116 countries in the Global Hunger Index (GHI) 2021 from its 2020 ranking (94), now placed behind Pakistan, Bangladesh, and Nepal. India's level of hunger is considered serious. The GHI is calculated on four indicators — undernourishment, child wasting, child stunting, and child mortality. Even though India has progressed on all four indicators since 2000, the proportion of wasting among children has grown about 2% since the last measurement in 2012.

Studies suggest consumption of nutrition-rich food was declining in rural India even before the pandemic hit. In March 2020, as India went into a sudden lockdown, reliance on ration from the Public Distribution System (PDS) grew as household incomes dropped drastically. The most vulnerable households were left struggling for basic necessities. According to a study conducted by the Centre for Sustainable Employment, 77% of households cut down their food consumption, and 66% lost employment.
No one had a job during the lockdown. When our roof collapsed, we borrowed 4 lakhs for repairs. Our family is in a lot of debt. Our income is low, so we only buy ration that is absolutely necessary from the market.

—Shashi // Patiala
02/ PDS Coverage and Entitlements
The National Food Security Act (NFSA) is one of the largest social security initiatives in the world. Approximately 80 crore citizens across the country receive monthly food subsidies through the Public Distribution System (PDS). Entitled families with cards classified as Priority or BPL are entitled to 5 kg per family member. Antyodaya Card holders are entitled to 35 kg regardless of family size. To supplement this, the government made additional grains available through the Pradhan Mantri Garib Kalyan Anna Yojana (PMGKAY). Though, PMGKAY may not have addressed diet diversity, it was a welcome source of relief. 35.87% of households we surveyed didn't purchase any additional wheat or rice. Their need for staple grains were met by a combination of NFSA and PMGKAY. 
Between March 2020 and July 2021, when the need for food subsidies was the highest, Haqdarshak helped facilitate over 1.5 lakh ration-related applications. This included helping families apply for new ration cards, updating the details on their cards, addition of family members to their ration card, seeding their Aadhar cards, and accessing temporary COVID relief (and the One Nation One Ration programme). We surveyed 100 households holding valid ration cards between July and August 2021 to better understand their challenges.
03/ Our Findings
A Right to Food Campaign survey found that even five months after the first lockdown ended, the surveyed households reported lower levels of income (62%) and reduced intake of nutrition-rich pulses (64%), vegetables (73%), and eggs/non-vegetarian items (71%). A third of households were still skipping meals. 50% had to borrow money to purchase staples for daily consumption. Households we surveyed almost a year later uniformly reported greater reliance on staple grains, and reduced consumption of dals, meats, and green vegetables. To cope with reduced wages, families relied on credit-based purchases, free government ration, and NGO ration kits. While many of them turned to relatives and others for informal lending to supplement this, they still had to cut down on food expenses by reducing purchases of expensive food items such as dairy, vegetables, and fruits. Mobility restrictions also made fresh produce less accessible.
 Depressed earnings and lower job recovery rates for cohorts within the informal economy have meant continued food insecurity for daily wage workers. Rita Devi's family shifted to growing vegetables.
There were times we ate 'namak and roti'. Just like everyone else, we didn't have the same work options. Even when we tried to sell vegetables, we faced many problems. The police would shoo us away, and we had very few customers. We would end up throwing our stock — these are perishable things.

—Rita Devi
As some return to work, they have been able to start repaying vendors and money lenders. Valmiki Kumar found work as a delivery driver after months of unemployment. Support from his local ration dealer was crucial in riding his family over during periods of the severe economic crunch.
The dealer was sympathetic and would let us pay for the ration when we had money. He was understanding and supportive in this difficult time.

—Valmiki Kumar
Our interviews with citizens tell us that there are changes needed to build a more responsive PDS.
04/ Awareness and Timely Support are Equally Important
While 92% of our survey's respondents received at least some of the free ration promised, only 18% received this for all months mandated through 2020 and 2021. 
People were unaware of a lot of things. They knew they were supposed to receive an additional 5 kg but they didn't know for how many months. They also did not know who to contact for information or registering grievances in cases of non-delivery. So, when the delivery happened on separate days for both paid and free ration, they were likely to miss it.
Instead of regular deliveries every month, cardholders in Punjab receive all their allocated ration periodically every 3 or 6 months. This might be one of the reasons PMGKAY ration delivery was particularly low here.
05/ Enhanced Support to Update Ration Cards
Ration allocation is proportional to the number of family members listed on the card — having all members listed is critical. An Aadhar-seeded ration card has also become (almost) mandatory for continued access.
Even though their names are there and I've tried to provide their Aadhar, we get ration for only 4 members since all our cards haven't been linked.

—Sunil Yadav from Bihar's Gopalganj district who received ration for 8 members before ePOS was introduced.
Offline pathways mean travelling to the block-level PDS office for updates and support, even though PDS dealers and panchayat members prove unhelpful. Pandemic restrictions, office closures, and longer processing times have only made it more difficult to apply for this process. Government offices have also paused working on updating ration cards since the lockdown. Assistance with these documentation challenges was one of the most requested services.
06/ Local Channels for Offline Grievance Redressal
The local ration dealer is the first, and often the last person, that citizens approach while facing difficulties collecting ration. They cannot bring their complaints to dealers when the complaint is about receiving reduced quantities.
Neelam, a 62-year-old widow from Sangrur has never received the full 5 kg ration promised under PMGKAY. She is scared that she would stop receiving any grains if she complained. Information about government helplines that people can use in order to get information, and also register complaints, needs to be clearly posted and accessible. Especially since support from panchayat officials varies greatly. Lack of trust in officials and representatives also deters citizens like Bahadur from seeking help.
Who can we complain to? I fear that action will be taken against me, and my family's name will be removed from the card list.

—Bahadur
Only 22% of the respondents felt comfortable raising a complaint, out of which only 27% had their complaints resolved by the panchayat and block officials. Access to active application assistance along with grievance redressal support through mediators such as CSCs or 'Haqdarshaks', can be helpful in reducing challenges regarding processing times and transparency.
It has been 8 years since the NFSA's enactment. While it has also saved the vulnerable in India, there are glaring gaps in our knowledge about how social determinants such as migration, caste, class, and gender affect access, and the coverage of PDS. We need more information on how government committees measure leakages. We also need more information on the technological challenges faced by both PDS shop owners and citizens who lose out on entitlements. 
Read more about the citizens' experience of the PDS here in our ground report.
06/ Our Solution
We aim to bridge the information gap between the government and citizens. Lack of awareness about the schemes, hesitation to approach authorities for grievances, and roadblocks in updating documents to access said schemes, are some of the major reasons why so many are left behind in the system.