Social Protection for Informal Waste Workers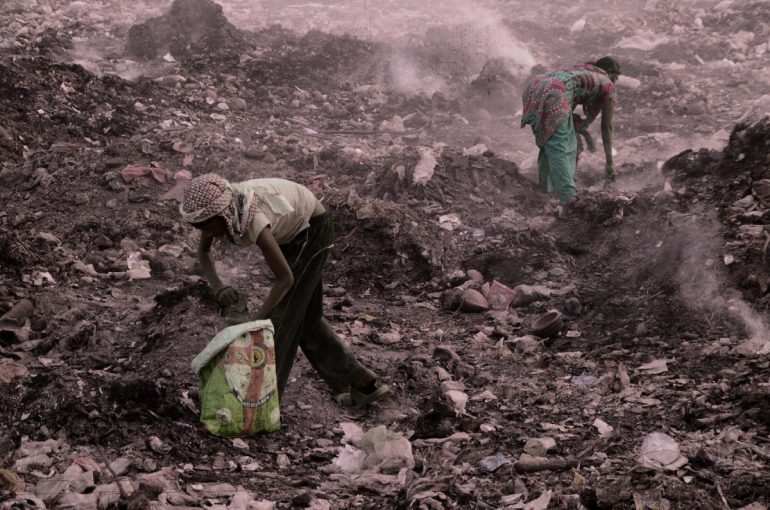 By Megha Raha and Garima Agrawal
01/ Ignored and Unprotected
India recycles about 30-60% percent of paper and cardboard, 50-80% of plastic and almost 100% of its glass waste. A study conducted in 2012 found India has one of the highest recycling rates for plastic PET bottles at 70%!
This system of waste management relies heavily on informal waste workers. Only 75-80% of solid waste is collected by urban local bodies. 90% of the country lacks formal systems for the safe disposal and recycling of solid waste. An estimated 4 million informal waste workers have stepped in. This informal network of waste collectors and 'kabadiwalas' — working independently or employed at informal recycling units — clean up a significant chunk of the 62 million tonnes of waste generated annually. They labour through the day to collect, transport, and sort recyclable waste from dump sites, landfills, and residences. However, the stigma associated with waste has kept them invisible. Marginalised by caste, class, and often migrant status, these workers find it difficult to access even basic civic amenities in the city. Despite providing crucial services to supplement urban solid waste management, their labour goes unrecognised. They continue to struggle for survival without a salary, job security, and access to social security — government welfare entitlements are beyond reach. And worse, they face unsafe working conditions in harmful environments.
I am uneducated and unskilled. What other work would I get in the city? I came here from Uttar Pradesh 13 years ago. I started working here because it did not require much specialisation. I have observed and learnt what waste is valuable. I can now earn and eat my meals.

—Chantu Yadav, a worker in a waste segregation facility in Mumbai.
The lack of job opportunities in urban areas is one of the primary reasons migrant workers find themselves taking up this occupation.
02/ The Effects of Migration
Migrant status can often become a barrier in accessing government schemes. We conducted two surveys with sanitation workers, spread across 8 states, between October 2021 and February 2022. Almost 88% of the respondents had migrated from other states for better work opportunities. Most of the women surveyed had first migrated post-marriage, and then joined the workforce. Only one-third of waste workers surveyed in Maharashtra were aware of the flagship schemes they were eligible for. According to a 2021 UNDP report, 67% of waste workers owned a bank account, of which 21% were Jan Dhan accounts. Between 40-50% of respondents did not own bank accounts in cities like Delhi, Jaipur, Ghaziabad, and Varanasi. About 5% of the waste workers had birth certificates, and only 0.5% had caste and income certificates. Note that these are necessary for accessing most government welfare schemes. 23% of the respondents did not have documents required to obtain a ration card, and 15% were unaware of the procedure to apply for the same. Bank account and ration card ownership was lower among migrant workers, and those with a monthly household income under INR 10,000. Lack of a permanent local address acted as an additional impediment in procuring ration cards.
I sort out dry waste from the mixed 'kachra'. My husband introduced me to this work — he has also been a waste worker for the last 10 years. Most days, we work the entire night from 9 p.m. till 4 a.m. During the day, I work at people's homes as domestic help with my mother-in-law. I used to get assistance for my children in my hometown, but I haven't received anything here. All my documents including my Aadhaar card, caste certificate, birth certificate, and bank account documents are back in my hometown.

—Aruna Devi, a 24-year-old waste collector working in Bandra. She migrated from Madurai after getting married. Her family was already not receiving ration in Mumbai, which added to their expenses.
Some migrant workers simply don't have the documentation needed to access government schemes. Others are unaware of how to get their existing documents updated. Initiatives like 'One Nation One Ration' recognise the need to include migrant workers in programmes. However, the documentation requirements for many other schemes limit their access to just their native villages. The process of obtaining documents and successfully registering for schemes can be cumbersome and time-consuming, requiring multiple visits to government offices or Common Service Centres. Frustrated with the process, Ramesh told us, "What is the point of going through the process to get a new card made? I live here all alone anyway."
Compared to other migrant workers in the informal sector such as domestic workers, rickshaw pullers, and construction workers — waste collectors often remain in the city they've moved to, for long periods of time, ranging upto 30 years or longer. Despite that, they do not have documents substantiating their residential status or occupational identity. This makes it harder for them to access educational, social security, and housing schemes designed specifically for sanitation workers, along with loans and skilling programmes provided by the National Safai Karamchari Development Corporation. Access to such programmes can help legitimise and recognise the importance of waste collectors' contributions to municipal waste management systems. This will also help address the challenges they face — poor compensation, health issues, workplace safety, housing conditions etc.
03/ Lack of Social Mobility
UNDP found that 47% of waste workers surveyed belonged to Scheduled Castes, 5% to Scheduled Tribes, and 18% to Other Backward Classes. Only 20% belonged to the General category. Lack of opportunities for social mobility is another reason workers stay within the occupation for long periods of time. This is often a combination of lower levels of inclusion in the formal education system, lack of access to livelihood support programmes, and caste hierarchies within the waste collection system.
Our survey with workers in Maharashtra showed similar engagement to workers from marginalised groups. 42% of the surveyed workers were from Scheduled Castes, 20% from Other Backward Classes, and 26% from the General category. Waste collecting is also regularly practised intergenerationally, as overcoming the caste barrier can be difficult.
To support her family, Sheetal Kamble started collecting waste along with her mother, when she was a young teen. She has been working for 12 years now. Sheetal has tried to find work as a cook, but has been unsuccessful. She learnt this trade by shadowing her mother, "I didn't know what to do, I just copied what my mother was doing (Mujhe pata nahi tha, maa jaise karti thi main bhi waisa karti thi). Now I have to go out by myself sometimes because my mother doesn't have the same energy levels she once used to."
Unfortunately, caste hierarchies demarcate workers' roles in most recycling operations. Waste collection and segregation is done by workers from lower subcastes. Itinerant buyers, dealers and warehouse managers, who sell this waste further up the value chain, come from higher castes and subcastes. This also impacts the ability of waste collectors to bargain on the kilo rate paid to them for the segregated materials they bring in. They do not have much say when rates fluctuate, and no hourly rate is factored in for the time and effort put in. Sudhakar Shedke noted that with more workers joining the trade after the lockdown, rates have dropped and he has had to travel further to collect enough waste to earn a living.
Furthermore, waste collectors earn enough to manage expenses for just a day or so, with no access to formal credit. They rely on sellers for credit. However, sellers may take advantage of this dependency, as there is no regulation or avenue for grievance redressals.
I know the rate. They give me INR 15 less than the market price which is INR 45. But I know them and have worked with them for so many years. They will give me an advance when I need it. That is why I continue to sell here. I have taken INR 15000, and have repaid INR 9000 so far. Every day, I pay back a small amount by giving back half of the amount I earned that day.

—Aruna Devi
04/ Social Discrimination and Isolation
We keep the city clean but people are hesitant to sit beside us or even talk to us. We are also human beings, you know, we feel bad,

—Rekha Meshram, when asked about her experience living in Thane.
Survival in the city comes at a cost that the waste workers are compelled to accept. Waste workers face discrimination during the course of their work, through daily interactions at shops, at formal spaces like hospitals, and educational institutions. Unfortunately, for many, this is their normal.
I peel and prepare garlic to give to households in exchange for their waste. This arrangement helps me earn some income. I came to Mumbai after my marriage and started doing this work with other women in the family. It's already been 10 years here. But my children are mocked by their classmates because of our occupation. What can we do? We ask our children to ignore them.

—30 year-old Alanka, explaining how her work affects her children.
Alanka has found support in the waste collectors' community within her neighbourhood in Govandi. This has helped her maintain her belief that her work is good for society and an environmental necessity. This helps her combat the stigma her family experiences from the outside world that fails to understand her work.
In order to combat this stigma, we need changes both in policy and urban planning. Both need to recognise waste collectors, creating room for them in the urban landscape.
Before they can sell the waste they collect, they need to segregate it by paper, plastic, metal, rubber footwear, etc. Without a designated space for this segregation, they are forced to do it on the road, near dumpsites, at their homes, or right outside 'kabaadi' shops. This lack of recycling spaces is a reflection of the broader marginalisation they face. Their knowledge of recycling should reflect in policy design. By upskilling workers and providing them with safe working conditions, they can be incorporated into the formal system for solid waste management. Their only other alternative currently is to work with contractors. This is a massive problem in itself. It exposes them to further exploitation.
05/ Housing and Health
I have lived 70 years of my life without a roof over my head and no relatives of my own. See, I'm still able to work and fill my stomach. But who knows what will happen tomorrow? If I could get some pension then at least I would have some hope.

—Kamla Ingole, a homeless waste collector, who has not received any support from her family or the government.
Many waste collectors live in thatched informal settlements or by the roadside without any protection. While formal workers have access to housing support schemes through the Pradhan Mantri Awas Yojana, informal workers struggle to find residences in cities. According to the UNDP, as many as 50-80% informal workers live in temporary settlements or huts in cities like Delhi, Patna, and Jaipur.
Waste workers experience many health issues from working at landfills. Their settlements are near city dump yards — with an increased risk of fires and exposure to toxic emissions. Research by the Tata Institute of Social Sciences, shows that the life expectancy of waste workers living near the Deonar dump site (MMR) is only 39 years as compared to the national average of 73.5 years.
Having to work with improperly segregated waste — without protective gear — exposes them to injury and disease. Bimabai, who has been collecting waste for over 20 years said —
Most of the time, I get shoes, electronics, and plastics from the households I visit. Once, I got cut by a sharp object while segregating mixed waste. My leg is still healing. Once, I got mixed waste from a clinic, and a syringe pricked me — I think I got infected with something. I had to visit the 'davakhana' and pay for an injection to treat it.
At-source segregation mandates stipulated by the 2016 Solid Waste Management Rules are not followed in most areas — shifting the burden upon waste collectors.
To manage health risks, workers in this sector need access to support their healthcare costs. While many are eligible for healthcare coverage under Ayushman Bharat and other state programmes for cashless treatment, scheme awareness still remains low. These healthcare programmes do not cover outpatient treatment in most states. Multiple respondents from our February 2022 survey spoke about having to pay for services and medication at government facilities themselves. These costs, combined with transportation costs, make them prefer private clinics closer to their homes. The average annual expenditure on outpatient treatment was around INR 23,000. To reduce medical debt on workers, it is essential to provide accessible cashless treatment for outpatient medical services.
06/ Support
Waste workers are a core part of any city, and need to be supported with social security and welfare benefits designed to address their challenges. Through awareness and application support, Haqdarshak aims to create pathways to ensure easy access and utilisation of welfare entitlements for those who need it. Especially waste workers. They have been long neglected by the system and deserve to be recognised for their immeasurable contribution to the smooth functioning of our cities. We have been working on connecting waste collectors with documentation, social security, banking, insurance, pension, and healthcare schemes.
We hope to scale this up 10X.
07/ Further Readings
From Haqdarshak:
The Reality of Sanitation Workers in India – Haqdarshak
Other Sources:
Full article: Interlinked contracts and social power: Patronage and exploitation in India's waste recovery market
Baseline Analysis of the Socio-Economic Situation of Safai Sathis | UNDP in India
INTERNAL MIGRATION IN INDIA: DISTRESS AND OPPORTUNITIES A Study of Internal Migrants To Vulnerable Occupations in Delhi By Hars
Why Ragpickers, Unrecognised And Unpaid, Are Critical For Waste Management In India
Unpaid and undervalued, how India's waste pickers fight apathy to keep our cities clean
http://dbrcindia.org/images/publications/Waste_Pickers_Study_Report_2017.pdf
The Waste-Value Dialectic: Lumpen Urbanization in Contemporary India | Request PDF
Basic Categories of Waste Pickers | WIEGO
Pathways to Inclusion: Social Protection and Public Services for Informal Workers in Pune, India
In Photos: Delhi's Waste Pickers Reel Under Double Whammy of Pandemic, Privatisation
At the Deonar Dumping Ground in Mumbai, People Barely Make It to the Age of Forty
Emerging from the Lockdown: – Insights from Women Waste Workers' Lives in Delhi
Wasted Lives: The Tragedy of India's 'Safai Mitra'
Examining vulnerability in a dynamic urban setting: the case of Bangalore's interstate migrant waste pickers
The Murky Underbelly of Sanitation During the Pandemic